Strong communication in corporate, political, health-related, tech innovation, and social advocacy contexts is crucial for the success and continued advancement of our society. Individuals who receive advanced training in communication are prepared for such important responsibilities as writing articles that educate the public about important issues, facilitating productive relationships between a company and its stakeholders, and advancing social and political causes. Master's in communication programs enable students to gain skills in professional communication that can help them advance their career in marketing, public relations, political campaigning and advocacy, health communication, non-profit communication, and other fields of communication.
Online master's in communication programs allow individuals who have professional and/or personal obligations that prevent them from traveling to campus or relocating for a degree program to complete their graduate degree in communication. While online programs may not be ideal for all students, additional advantages of online programs include:
Greater access to graduate programs, especially for students who do not live near a campus-based program
Access to specializations that may not be offered by a local college or university
Increased exposure to online communication technologies and a greater comfort in navigating these technologies, which may be advantageous for certain fields post-graduation
Flexibility for students who may be forced to relocate during their program, such as students in the military or spouses of service members
Ability to complete coursework and projects at any time of day without the need to attend classes at specific times (for programs that use asynchronous instruction)
Ability to view and review course materials, including recorded lectures, multiple times if needed to understand key course concepts
Students considering an online program need to be aware that online master's programs often require more self-discipline and self-motivation compared to campus-based programs. This is due to the fact that students are responsible for keeping up with lectures and assignments without the structure of weekly campus-based lectures. Students need to be particularly self-guided and disciplined for online programs that use asynchronous instruction (see below) where students are not required to attend live lectures online.
Accessibility of Online Programs versus Campus Programs
The following map contains the location of all campus-based master's in communication programs in the United States with a 20 mile radius around each campus (represented by the blue circles). For students who do not live within commuting distance to a campus, do not want to relocate to attend a graduate program, or who cannot commute to campus several times per week for lectures, in-state and out-of-state online programs may be the only option for pursuing a master's in communication.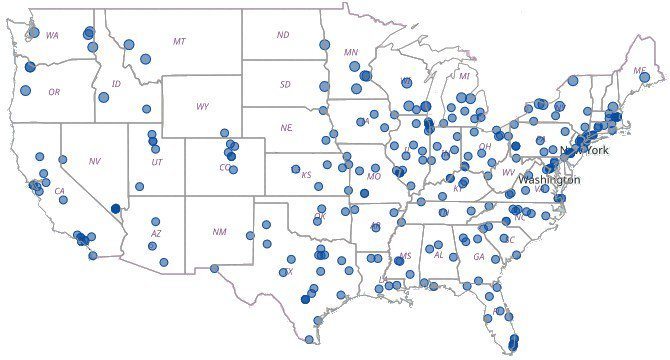 With the creation of the National Council for State Authorization Reciprocity Agreements (NC-SARA), it is easier for college and universities to offer online programs to students in states for which they do not have a physical campus. All states in the U.S. are members of NC-SARA with the exception of California; however, California typically allows out-of-state non-profit institutions to admit California residents without restrictions. Therefore, while there are a limited number of programs that do not accept students from all 50 states, the majority of online master's in communication degree programs do accept online students from across the nation. As such, students are advised to confirm with an out-of-state program that they accept students from their state of residence before applying.
Structure of Online Master's Programs in Communication
There are a wide variety of online master's in communication programs and understanding the different options is important for students as they research and compare programs. There are programs that are 100% online and do not require any campus visits, and programs that require a limited number of on-campus residencies. Both options have pros and cons depending on the student. For students who have personal or work obligations, it may not be possible to travel to campus for these sessions. However, for students who want to meet instructors and classmates in person for face-to-face instruction and networking, but who still want the flexibility of online instruction, these programs may be ideal.
Note: MastersinCommunications.com classifies a program as online if it requires students to attend two or fewer on-campus sessions per year. Programs that require more than two visits per year are classified as hybrid programs.
In terms of instruction methods, there are programs whose course content is accessible 24/7 to enable students to fully determine their own schedule. There are also programs that incorporate live video discussions and other interactive learning technologies to maximize student-faculty and peer-to-peer interactions. For more information about instruction methods see below. Independent of the type of instruction method, students typically interact with instructors and classmates through online discussion forums; email, telephone and chat; and video conferencing if needed.
On top of these options, students of online programs have access to additional specialization options that may not be offered by a local college or university. MastersinCommunications.com currently classifies programs into 10 different concentrations according to their curricula. These specializations include organizational communication, strategic communication, health communication, public relations (PR) and marketing communication, political communication, and more. Students should note that while some schools offer the same concentrations in their online programs as they do in their campus-based programs, others may offer more or fewer concentrations in their online program. For example, a school may offer a campus program with multiple specializations while their online program focuses on just one like strategic communication.
When deciding which programs to consider, prospective students should take into account their current professional and personal obligations, geographical location, and their interests and professional objectives within the field of communication. Furthermore, prospective students should consider their learning preferences (e.g. more versus less structured) as well as how long they would like to take to complete their program (e.g. full-time versus part-time enrollment).
Online Master's in Communication Specializations
While many online master's in communications programs offer specializations or concentrations, not all programs have defined specialization options. Instead, some schools offer a general communication program and allow students to tailor their studies based on the electives they choose to take. When researching and deciding between programs, students should consider whether or not they would prefer a program that offers a distinct track in a given specialization, with a more set curriculum that covers the essential concepts within that specialization, or a more general program that offers a broader selection of courses across different disciplines in communication.
Concentration options for students wishing to pursue their master's in communication online include but are not limited to:
Communication Studies
Global Communication
Health Communication
Marketing Communication and Public Relations
Mass Communication and Media Communication
Organizational Communication
Political Communication
Strategic Communication
Technical Communication
When determining which specialization to pursue, students should research the types of careers in communication that interest them and the knowledge and skills that these careers require. That way they can identify programs that will provide them with the targeted coursework, research opportunities, and or internship experiences they need to succeed in that field.
Graduation Requirements for Online Master's in Communication Programs
In addition to completing the 30 to 36 course credits that are typically required by most programs, students may also have to fulfill additional requirements to graduate. These requirements may include but are not limited to:
A research capstone project (such as a professional project, published paper, or thesis)
A professional portfolio of work
A comprehensive examination at the end of their program
On-campus residencies, also known as on-campus intensives
An internship or practicum
Programs tend to vary in their research project, final examination, internship/practicum, and campus visit requirements. Most online master's in communication programs are applied in nature, and therefore tend to have graduation requirements that help prepare students for more advanced work in industry. As a result, portfolio requirements, professional project requirements, and comprehensive examinations tend to be more common than thesis requirements for online programs, as theses tend to be more theoretical and prepare students for work in research or academia, or for doctoral studies. That said, there are some online programs that offer students the option of completing a thesis if it better aligns with their career and academic goals. There are also online programs that have no capstone requirements, but require students to take additional courses to meet the credit requirements for graduation.
On-Campus Intensives and Residencies in Online Programs
To strengthen student-faculty relationships and give students the opportunity to network with fellow students and potential employers, some online master's in communication programs require students to attend one or more on-campus intensives (also known as campus residencies or immersion sessions) during their enrollment. For programs that require on-campus intensives, the format and timing of these sessions varies by program. For example, some programs ask that students attend a week-long orientation on-campus before the start of the program or require students to visit the campus every summer. Other programs maybe only require students to visit campus to defend their thesis or to complete their comprehensive examination. Finally, some programs may have their residencies at off-campus locations depending on the theme of the immersion session.
At this time, only 6 out of 137 online programs require campus visits.
In general, students are expected to cover the costs of travel and lodging for on-campus intensives, as these costs are not typically included in university tuition or fees. Therefore, students should factor these costs into their overall budget when deciding between online programs.
Full-Time versus Part-Time Online Master's in Communication Programs
Many online programs offer students both full-time and part-time courses of study (although some may only offer one enrollment option), so that students who wish to continue working during the completion of their degree have the option to do so. The definition of full-time and part-time enrollment has been less clear as schools have introduced alternative academic calendars with four-, five-, and eight-week terms. These shorter terms are designed to allow students to concentrate on fewer courses over a shorter period of time. For example, a student may take three five-week courses instead of three courses over a traditional 15-week semester. In both situations, a student may be considered as enrolled full-time.
Typically full-time enrollment is the equivalent of 9 graduate credit hours earned over a traditional 15-week semester. Students enrolled full-time can typically complete a program in 12-24 months depending on how many classes they take per term and if they enroll during the summer. Students attending part-time typically take 24-36 months to graduate, although some programs give students up to 5 to 8 years to finish the program. When deciding whether to pursue a degree full-time or part-time, students should weigh the benefits of completing their program sooner, versus being able to work more during their degree program. In addition, for students who plan to seek financial aid for their studies, eligibility may require students to enroll in a minimum number of credits per term. Therefore, students should contact programs to ask what is the minimum number of credits they must take to be eligible for financial aid.
Online Instruction Methods: Synchronous vs. Asynchronous Instruction
Online master's in communication programs employ two main types of online instruction methods: synchronous and asynchronous instruction. Below is a description of each method of instruction, including their potential pros and cons. Some programs use almost exclusively asynchronous instruction, while other programs combine synchronous and asynchronous instruction to give students a balance between flexibility and real-time interactions with course faculty and classmates.
Synchronous instruction
Synchronous instruction is defined as any course content that requires students to log on at specified dates and times to participate in real-time lectures and discussions. Synchronous instruction typically entails students using a web camera to discuss course concepts with peers and instructors, or participating in online chat discussions for participation credit.
Synchronous instruction enables students to engage more directly with their instructors and classmates, thereby providing structure to their learning experience. For many students, this can enhance their learning outcomes and level of interest in their courses. Synchronous instruction also allows students to receive instant responses to questions they might have, approximating the feel of a traditional campus-based lecture setting. However, this mode of instruction is slightly less flexible than asynchronous instruction, as students must be online at scheduled times. Regardless of whether they employ synchronous instruction or not, all online programs have an asynchronous component, in the form of assignments and other reading materials that students schedule and complete on their own time.
Asynchronous Instruction
Asynchronous instruction is defined as the 24/7 access to course materials such as pre-recorded lectures and modules, written course materials, and self-paced examinations and assignments that are completed whenever the student has time. Programs that employ 100% asynchronous instruction do not require students to attend lectures in real time, allowing them more flexibility than is afforded to students of programs that employ synchronous instruction. However, with the flexibility of asynchronous instruction inherently comes fewer opportunities for students to directly engage with program faculty and classmates. Students should also note that, while these programs allow them to view course materials at their convenience, they still have set dates for exams and assignment submissions. They also typically require weekly participation in online discussion forums.
Some programs that use mostly or exclusively asynchronous instruction facilitate student-faculty and peer-to-peer interaction through online discussion forums or optional virtual office hours that students can attend to ask their instructors questions. Course faculty members for these programs are also generally available via email or phone for students' questions. Please note that all online master's in communication programs require students to exercise discipline to stay on top of their assignments and their course material. In particular, students of programs that employ mainly asynchronous instruction must remain diligent and organized, and create structure in their learning schedule so as not to fall behind in their lecture sequences.
Directory of All Online Master's in Communication Programs
Filter Online Programs by Specialization: